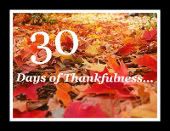 As some of you might remember, I have been participating in Rachel's 30 days of thankfulness challenge. It has been a blessing to me and a good reminder every time I sit down to write a post that it is so important to be thankful. It is so healthy and encouraging. I always feel 100x's better after writing about what I am thankful for! The challenge isn't over yet, we still have a few more days left, so if you want to join in it isn't too late! :) Usually I write one point of thankfulness per day, but as today is special I'm going to just write a simple list of everything on my heart this morning. :) Happy Thanksgiving!!
Sunshine on cold Winter days.
My sweet husband.
The delicious panini sandwich I'm eating now. ;)
Puppies.
My sister. (aka, my best friend!)
My washing machine! (can you imagine doing it all by hand?)
Christmas music.
Forgiveness.
Wool socks. (so warm!)
A wonderful mother in law.
Time.
Trees. (aren't they lovely?)
Holidays. (people need to relax!!)
Hot chocolate.
Life.
Music that lifts spirits.
And most importantly, Jesus. My Saviour. My Lord. He is my all in all, He is my life! I can't imagine what it would be like if we didn't have such a great hope!! I am so thankful today that so many years ago He came to earth for you and I so that we could receive everlasting life, so abundant and full!
~
Happy Thanksgiving! Enjoy your day. Enjoy your family. And as you look around in your life send up a little thanks to God for his blessing and grace in this life!! ^_^
Xoxo,
Marie