As an addition to my last post on wearing skirts in cold weather I wanted to show example photos of shoes that you can wear with tights and skirts. Let's get started! :)
I made sets of three photos featuring one skirt shown with three basic shoe styles; flats, boots, & heels. I'm also wearing black tights with all of the combinations. (These are very basic examples, of course you can mix things up by changing the color of your tights, length of skirt, etc!)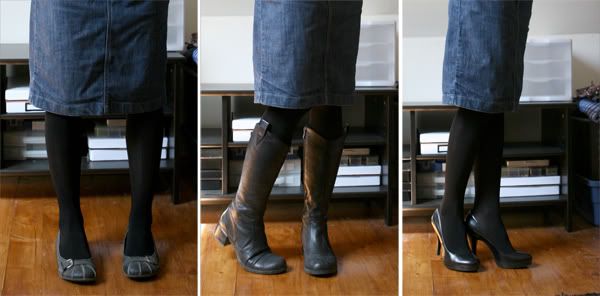 (1) Straight Denim Pencil Skirt.
(2) Bronze A-line Skirt.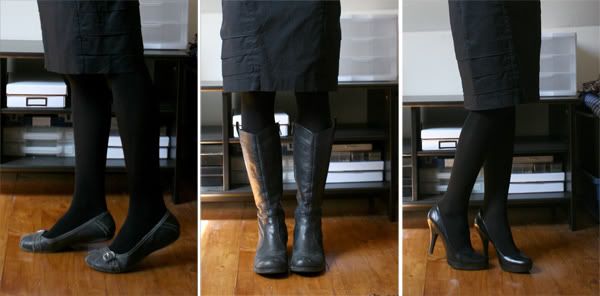 (3) Black Pencil Skirt.
(4) Plaid A-line Skirt.
~ Boots are the most practical out of these shoe choices, and I think they look nice with all of the above skirts! They are by far my favorite Winter shoe.
~ Heels look fabulous, however I for one don't manage to wear them much as I mentioned before, I like comfort! :) I am on the prowl for some heels that have a more comfortable mid-sized heel that I can wear this season. Because, well they do look rather fantastic IMO, and I love the girly-ness of them!
~ Flats have one amazing feature about them. Comfort. I've only had this black pair for about 9 months and they are completely worn out, I wear them all the time! They match everything and keep my feet happy on long days. Now they aren't always the most flattering shoe (especially on me IMO, because I'm petite and have short legs I suppose ? ), but they still look nice enough for me to suck it up and wear them whenever I want to be comfortable.
~
I hope that this was helpful! As Winter approaches I'm sure that I'll be sharing more favorite shoe/skirt combinations. :)
What are your favorite shoes to wear with skirts?